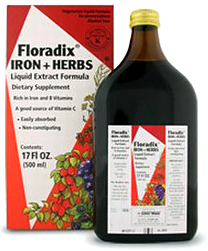 Floradix: a quality iron supplement.

The absorption rate of Floradix (liquid iron gluconate) is twenty-five per cent compared solid iron tablets that have an absorption rate of two to ten per cent.

Rich in Iron and B Vitamins
A good source of Vitamin C
Easily absorbed
Non-constipating
Vegetarian liquid formula
No preservatives
Alcohol free

Amazon prices as of 2018-11-04 04:10:47 CDT
Product prices and availability are accurate as of the date/time indicated and are subject to change. Any price and availability information displayed on AMAZON.COM at the time of purchase will apply to the purchase of this product.
Floradix provides maximum absorption by using the most highly absorbable form of iron, iron gluconate. Floradix also contains B vitamins and vitamin C to enhance absorption, herbal extracts to increase digestion, and fruit juices to ensure proper stomach acidity.

A twenty milligram dose of Floradix satisfies the Recommended Daily Allowance (RDA) of fifteen milligrams of iron for women of child-bearing age. Iron is essential for hemoglobin formation and for the effective circulation of oxygen throughout the body.

Without adequate levels of iron in the blood, one will be left feeling lethargic and tired. Women are more likely to suffer from anemia and low blood-iron because menstruation, pregnancy and breastfeeding tax their iron stores. Vegetarians are at higher risk of developing iron deficiency and so are those who eat little red meat.

The Inside Scoop:
Liquid iron gluconate (Floradix) is one of the most reliable and trusted forms of liquid iron world wide. This time tested, non-constipating & well-known liquid iron and vitamin formula helps prevent iron deficiency and will greatly increase your energy, overall health and well being.


Supplement Facts
Serving Size: 2 Teaspoons (10 mL)
Servings Per Container: 50
Amount Per Serving
% Daily Value*
Calories
20
Total Carbohydrate
5
g
2%
Sugars
5
g
**
Vitamin C
10
mg
17%
Vitamin B1
2.5
mg
167%
Vitamin B2
4.0
mg
235%
Vitamin B6
2.0
mg
100%
Vitamin B12
7.5
mcg
125%
Iron (elemental)
**
(from ferrous gluconate)
10
mg
56%
*Percent Daily Values are based on a 2,000 calorie diet.
**Daily Value not established.

Other Ingredients:
Aqueous extract from: carrot, nettle wort, spinach, quitch roots, fennel, ocean kelp, African mallow blossom.

Suggested Use:
Adults (12 and over): Take 10 ml (measuring cap or two teaspoons) twice daily before meals.
Children (4-11 years old): Take 10 ml (measuring cap or two teaspoons) once daily before a meal.

Shake bottle well before using. Take before meals.

For Kosher use: Mix 10 ml (measuring cap or two teaspoons) into half a glass of water or juice.

Do not contaminate the formula by drinking directly from the bottle. To preserve the product and prevent its fermentation, keep refrigerated at all times after opening and consume within 4 weeks.

Warnings:
Accidental overdose of iron-containing products is a leading cause of fatal poisoning in children under 6. Keep this product out of reach of children. In case of accidental overdose call a doctor or poison control center immediately.

These statements have not been evaluated by the Food and Drug Administration (FDA). This product is not intended to diagnose, treat, cure or prevent any disease.